Dr Mitchell's Anti-viral Tea
Ingredients:
3 sticks of cinnamon bark
5 slices of fresh ginger
5 Cardamon seeds
Directions:
Place the above ingredients in a pot with 4 cups of water and bring to a boil.
Cover with a lid and simmer for 20 minutes.
Remove from the heat.
Strain into a cup.
Add fresh- squeezed lemon with honey to taste.
Health benefits: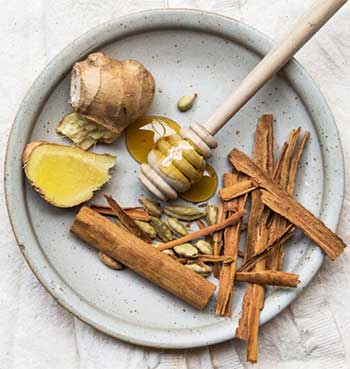 Cardamon seeds are anti-viral, anti-microbial and anti-inflammatory. They are high in cineole, an antiseptic for bad breath and gum disease, sore throat and the respiratory system. Cardamon seeds, which are a member of the ginger family, are also calming for the digestive system. Ginger is warming and helps to strengthen the immune system. Fresh ginger has antiviral properties against respiratory tract infections, and in a tea can be soothing for a sore throat and cough. Cinnamon has been shown to protect against fungal and bacterial infections. These combine nicely with honey and lemon for an aromatic tea you can enjoy at any time but especially if you have cold or flu symptoms.
Dr. William Mitchell was a Naturopathic physician and a co-founder of Bastyr University in Washington. He recommended 3 or more cups per day – for a maximum of seven days during a bout of flu.