Cold water long herbal infusions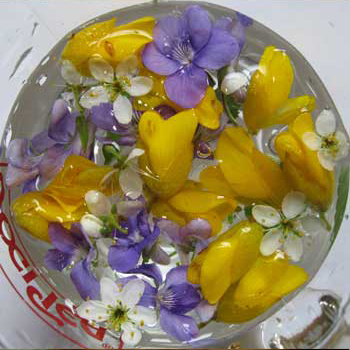 Cold herbal infusions use cold, tepid or room temperature water. They are usually used on nutrient rich green leaves, and delicate plant materials such as fresh flowers and seeds, but not always. Long cold infusions are preferred to extract the soothing, mucilaginous polysaccharides of starchy roots such as marshmallow, slippery elm and psyllium husks.1
To assist the extraction of the medicinal benefits from your herbs, chop, cut, or use a mortar and pestle to break the plants' cell walls before you infuse them. If I am using whole fresh flowers I will often leave them whole as aesthetically they nurture me on emotional and mental levels.
How to make a cold water herbal infusion
Equipment:
Jar with a lid
1 part herbs of choice
3 parts water
Directions:
Pre-moisten your herbs a little and wrap in a piece of muslin or cheesecloth.
If you don't have muslin or cheesecloth you can fill your jar to about 25% of volume with your herbs
Pour on room temperature or lukewarm water (75%) leaving about an inch of space at the top.
Cap your jar or cover with a saucer.
Leave to infuse at room temperature overnight, or for at least 4 hours.
If wrapping your herbs in cloth squeeze the bag and remove, or strain off the liquid using a sieve.
Add the plant material to your compost heap.
Add a slice of lemon or bruised fresh mint leaf if you like for flavour.
Drink 1 – 3 cups a day.
Cold water herbal infusions will keep in the fridge for up to 2 days.
Cold water herbal infusions will break down the following plant constituents: sugars, proteins, albuminous bodies, gums, mucilaginous substances, pectins, plant acids, coloring matter, many mineral salts, glycosides, some alkaloids, most alkaloidal salts, and a hint of essential oils.2
Though cold infusions take longer, the delicate volatile oils will be more safely extracted. Tannins, lactones, and iridoids extract poorly in cold water.
Related Posts:
References
(1) Moore M. Materia Medica Factsheet: Herbs best as Cold Infusion. Online arcticle. Available at: http://www.swsbm.com/ManualsMM/CldInfus.txt (Accessed 07 August 2019)
(2) A Deeper Look At Herbal Infusions. Online article. Available at: https://theherbalacademy.com/a-deeper-look-at-herbal-infusions/ (Accessed 07 August 2019)