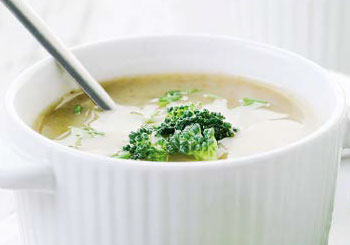 This is a light, easy to make, vegan cream of broccoli soup. The creaminess comes from the soaked cashews, alternatively use a few tablespoons of tahini or cashew butter if you have no cashews or you are pressed for time.
Ingredients:
1 large or 2 small heads of broccoli
2-3 large potatoes
1 tsp of ground cumin seeds
2 handfuls of cashew nuts (pre-soaked for 2-3 hours in cold water)
(use tahini instead if you prefer or as a time-saver)
1 tsp of pumpkin seed oil
1 tbsp of hulled hemp seeds
Unrefined sea salt to taste
Directions:
Peel and cube the potatoes.
Wash the broccoli. Cut off the thick stems, chop into smaller pieces and set aside to cook with the potatoes.
Split the broccoli heads into smaller florets and set aside.
Boil the cubed potatoes and broccoli stems in a litre of water with a little salt and
cumin seeds.
When the potatoes are almost cooked add the broccoli florets – just long enough to
soften, and then remove from the heat and set aside to cool to about 110ºF / 45ºC.
Meanwhile, blend the cashews in a food processor and when ready add half of the
boiled potatoes, broccoli stems and florets with some of the water and blend to a form a creamy texture.
Add back to the pot along with the pumpkin seed oil and stir well.
Add salt to taste and serve with a sprinkle of hulled hemp seeds.