External use: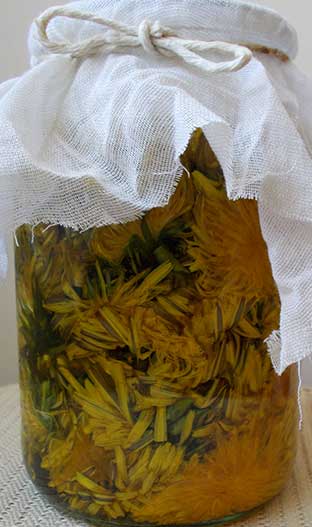 Dandelion flower oil makes a nice massage oil for sore or tired muscles. You could add a few drops of essential oil, such as geranium or rosemary, for added healing benefits.
It also makes a soothing emollient for tired eyes or to nourish dry skin.
You can use the oil as a base for a wound healing salve.
Internal use:
Use the oil as a dressing for salads. The fresh petals are also nice for dressing salads and cold dishes, they taste mildly sweet.
Caution: If you are allergic to ragweed, chrysanthemums, marigold, chamomile, yarrow, daisies, or iodine, you should avoid dandelion.¹
How to make dandelion flower infused oil
You will need:
A clean, dry jar,
extra virgin olive oil
a piece of muslin cloth to cover the top of the jar
and some twine to secure the muslin over the jar.
Pick enough dandelion flowers to fill a jar.
Directions:
Fill your jar with the dandelion flowers.
Slowly pour in the olive oil while allowing it time to seep into and around the flowers until the jar is near full. Make sure there are no air bubbles or pockets.
You may need to prod the flowers down to ensure they are fully immersed in the oil. Flowers sticking up above the oil are in danger of going mouldy.
Cover the jar with the piece of muslin and secure with piece of string or elastic band. Using a cloth cover allows moisture to escape.
Leave in a sunny windowsill for 2 weeks. The oil will take on a beautiful golden colour from the dandelion flowers, which by then will have become limp.
Strain off the oil into a jug.
Leave to stand so that the water content settles at the bottom. Then pour into a sterile bottle.
References