Roasted Chickpeas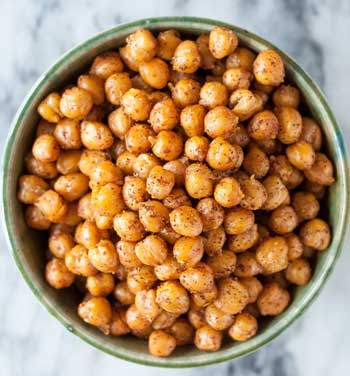 Roasted chickpeas are a healthy and tasty alternative to crisps and other fatty snacks.
Chickpeas are high in protein, so these make for a filling, satisfying snack. Enjoy roasted chickpeas on their own or add them to salads and other dishes.
Makes about 2 servings.
Ingredients:
1 tin of chickpeas, drained and rinsed
1 tablespoon olive or avocado oil
½ teaspoon dried thyme leaves
½ teaspoon unrefined sea salt / Himalayan pink salt
VARIATIONS: Adjust the seasoning to your taste. I like to add turmeric and chilli flakes for a hot and spicy flavour. Try garlic powder with Italian herbs like oregano and basil, or honey and cinnamon for a sweeter snack.
Directions:
Preheat the oven to 190°C (375°F).
Spread the chickpeas in a single layer on a baking sheet. It's ok if they are still wet, they will dry out in the oven. Bake for about 30 minutes.
Every 10 minutes shake the baking tray to ensure the chickpeas are evenly roasted.
In a medium sized bowl combine the oil and seasoning.
After about 30 minutes, remove from the oven and transfer the hot chickpeas to the bowl. Toss to ensure the chickpeas are evenly coated with oil and seasonings.
Spread the seasoned chickpeas back onto the baking sheet and return to the oven for another 10 to 15 minutes until they are golden and crispy.
Remove from the oven and allow them to cool a little before enjoying.
Serve your roasted chickpeas while still warm, or completely cooled for a more crunchy texture.
These can be stored in an air-tight container, in the fridge, for up to a week, although they will soften and lose their crispy texture.