Ingredients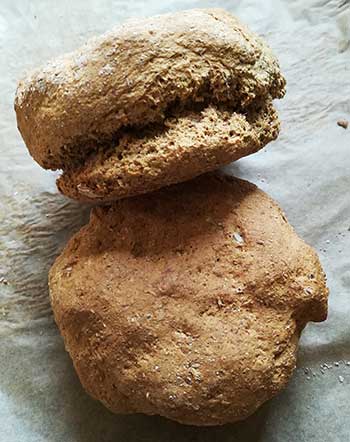 2½ cups spelt flour
½ tsp baking soda
1 tsp salt
1 cup fizzy kefir water
OPTIONAL: Oil to brush tops of buns
VARIATIONS: Add raisons, cranberries or your favourite dried fruit to the dry ingredients for a fruit scone.
Directions:
Pre-heat oven to 180 degrees .
In a large bowl combine spelt flour, salt and baking soda.
Add fizzy kefir water. If you do not have kefir water you can use kombucha or sparkling water.
Mix to a soft sticky dough.
Cover a board or surface with flour and knead your dough, then divide into 4 equal balls.
Roll each ball in flour and use the palm of your hand to and gently flatten into a round.
Place on a floured baking sheet.
For a shiny surface brush the top of each round of dough with oil.
Place in the hot oven and bake for 30 minutes.
When done turn the scones upside down on a wire wrack to cool. They should sound hollow when tapped.
ENJOY!