Thyme: Thymus vulgaris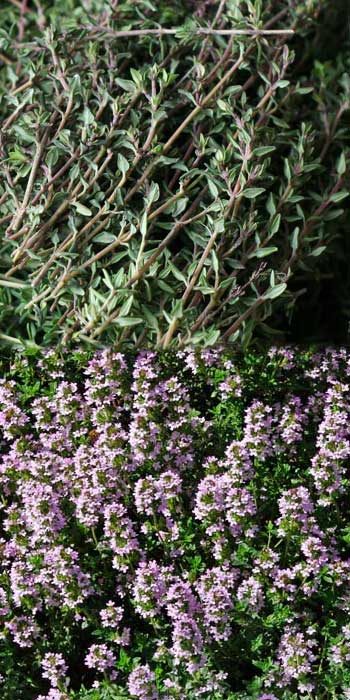 Part used: leaf and stem
Medicinal actions: Carminative, anti-microbial, anti-spasmodic, expectorant, astringent, anthelmintic
Thyme is an aromatic herb with a bitter-sweet flavour. It has a long history of culinary and medicinal use. It is primarily used as a pot herb as it can withstand long cooking times. It also makes a delicious tea that can soothe frazzled nerves, relieve digestive upsets, ease hacking coughs and strengthen immunity. The tea can also be used as a gargle for mouth and throat infections or applied externally to clean wounds.
As an expectorant thyme can help to loosen and expel mucous, making it a good choice if you have asthma, bronchitis, a cold, cough, flu, or sinus headache. A general tonic, antioxidant and aid to digestion, it is also useful for treating colic in babies and excess gas in children and adults.
Thyme is to the trachea and bronchi what peppermint is to the stomach and intestines.

~ Rudolf Fritz Weiss, M.D.1
Thymol, a constituent of thyme's essential oil is an antibacterial that is effective against Streptococcus mutans, E. coli, Staphylococcus aureus and Bacillus subtilis. It may be used as a gargle in laryngitis and tonsillitis, to ease a sore throat, or soothe an irritable cough. Thyme was traditionally used in cough remedies, and to strengthen the lungs.
It purges the body of phlegm, and is an excellent remedy for shortness of breath. It kills worms in the belly, and being a notable herb of Venus, provokes the terms, gives safe and speedy delivery to women in travail, and brings away the after birth. It is so harmless you need not fear the use of it.2

~ Culpepper
For its astringent properties, thyme was commonly used to relieve childhood diarrhoea and bed wetting. Taken as a cold infusion it is useful in dyspepsia and upset stomach. The warm infusion is beneficial for PMS, flatulence, headache, and to promote perspiration.
Thyme tea will arrest gastric fermentation. It is useful in cases of wind spasms and colic, and will assist in promoting perspiration at the commencement of a cold, and in fever and febrile complaints generally.

~ Mrs M. Grieve3
As an antiseptic, thyme has many external applications such as for cleaning cuts, in a foot bath to treat fungal infections, a facial wash for acne, or added to salves for its warming properties.
Using thyme
Dried thyme is stronger than fresh thyme. As a culinary herb it works well in Italian dishes such as pasta sauces, as part of a bouquet garni in soups and casseroles, in bean dishes, or add to rice pilaf and roasts.
I first tasted thyme tea in Greece where it abundantly grows wild. You can also find it growing wild in Ireland. I generally use I teaspoon of dried herb to 1 cup of water. Allow it to infuse for at least 5 minutes, strain and serve with honey.
The essential oil is invaluable during cold and flu season. It is antiviral and will cleanse the air of pathogens. I use it year round in my oil-burner.
The oil is valuable as a local application to neuralgic and rheumatic pains; and, internally, to fulfil any of the indications for which the plant is used. Dose of the infusion, from 1 to 3 fluid ounces; of the oil, from 2 to 10 drops on sugar, or in emulsion.

~ Henrietta Kress4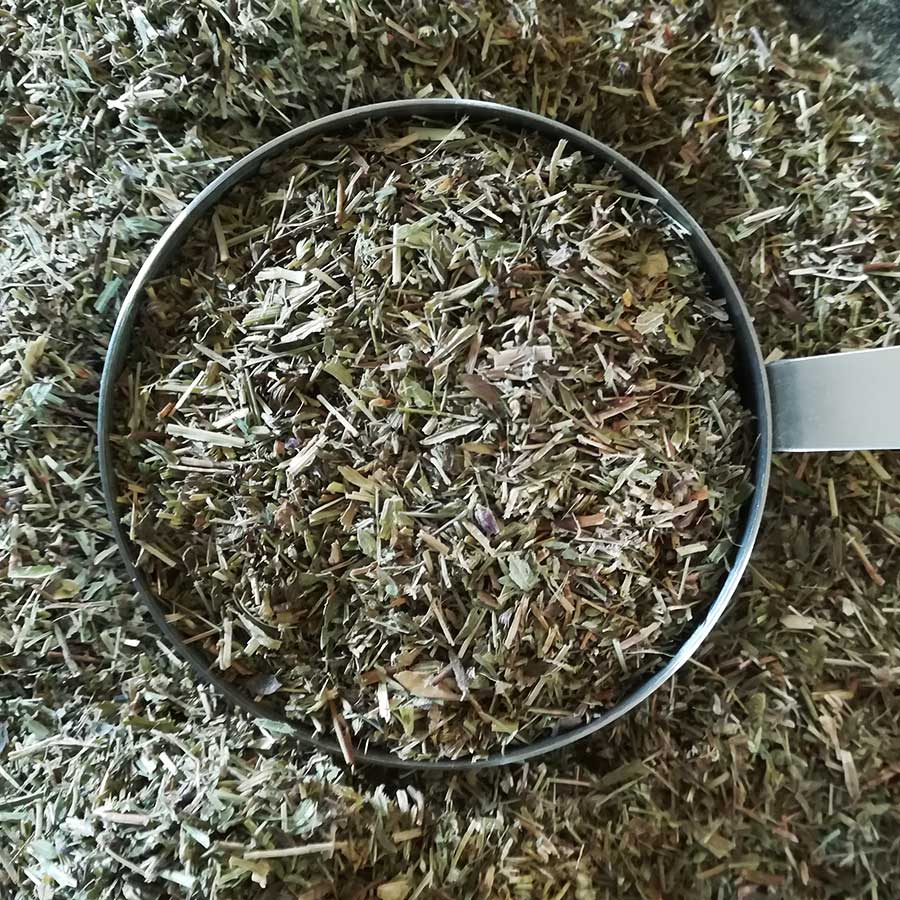 Wild Mountain Thyme Tea
Wild Thyme: Thymus serpyllum
Antiseptic, anti-microbial, carminative, expectorant.
Thyme is generally considered safe for both adults and children, however caution is advised during pregnancy.
The above is not medical advice and is for information purposes only.
References:
(1) Weiss R.F. M.D. Weiss's Herbal Medicine, Classic Edition. New York. Thieme, 2001. p. 209
(2) Culpeper, Nicholas. The Complete Herbal. Available at: http://www.completeherbal.com/culpepper/thyme.htm
(3) Grieve M. Ginger. A Modern Herbal. Available at: http://botanical.com/botanical/mgmh/t/thygar16.html
(accessed 05 March 2019)
(4) Kress H. Thymus – Thyme. Available at: https://www.henriettes-herb.com/eclectic/kings/thymus.html (accessed 05 March 2019)