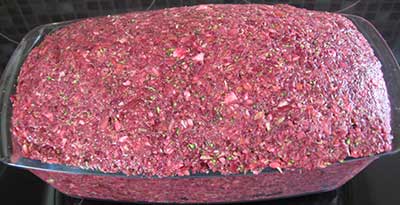 Making a weekly vegetable loaf can be a great way of taking care of lunches during the week, or serve this beet loaf as the main dish for dinner. You could use the same mix to form beet burgers. Either way this is a tasty way to enjoy beets, or use carrots instead if you prefer.
Ingredients:
3-4 medium beets, grated
1 medium onion, chopped
2 cloves of garlic, crushed
400 gm of cooked beans
30 gm of soaked pumpkin seeds
30 gm of soaked sunflower seeds
1 tbsp of milled flaxseeds or chia seeds
3 tbsp water
1 tbsp of cumin
1 tbsp of blackstrap molasses
1 teasp of turmeric
1 teasp of black pepper
1 tbsp of coconut butter
½ teasp unrefined sea salt
Variations:
If you don't like beets use carrots or 50% of each.
Use oregano, basil and parsley or other herbs of choice in place of cumin, turmeric and pepper.
Directions:
Preheat oven to 180°C / 370°F / gas mark 5.
Mix the flax or chia seeds with the 3 tbsp of water and leave aside to set. This will be used in place of an egg to bind the mix.
In a food processor, pulse the beans and seeds with the cumin, turmeric, black pepper, salt, coconut butter and blackstrap molasses. Keep it a little chunky to add texture to your loaf or burgers.
Transfer to a large bowl. Stir in the beets, garlic and onions along with the flax/chia seed mix.
If you are making burgers form into patties and place on an oiled baking sheet and bake for 30-40 minutes, flip halfway through.
If you are making a loaf, turn into an oiled loaf dish and bake for 45 minutes. Allow to cool a little before slicing.
Serve with sweet potato oven chips and tomato salsa.