Cleavers: Galium aperine
AKA: Goosegrass and sticky backs
Harvest: From late February through early May
This is a cold water infusion of fresh cleavers, infused for 4 hours or longer. It is one of the best cleansers for the lymphatic system and a timely Spring cleansing tonic following the more lethargic months of Winter.
Cleavers are high in coumarins, a phenolic compound that imparts the aroma of fresh greens and gives cleavers water a light sweet taste. Coumarins facilitate the removal of waste by enhancing lymph flow. Cleavers also increase the flow of urine ensuring waste is efficiently eliminated, while soothing any inflamed membranes.
How to make cleavers water
Go out and gather some fresh cleavers. Twist the bunch of cleavers to bind them together and bruise the plant to release more of the active compounds. Place in a glass jar or bottle, cover with cold water and leave to infuse for 4 hours or longer. Strain the cleaver infused water into a glass and enjoy.
I will often refill the same bottle of cleavers with more water throughout the day as I drink it, as apart from the health benefits, this is a delicious and refreshing drink that tastes like spring.
To ensure you have correctly identified the right herb read this post on cleavers.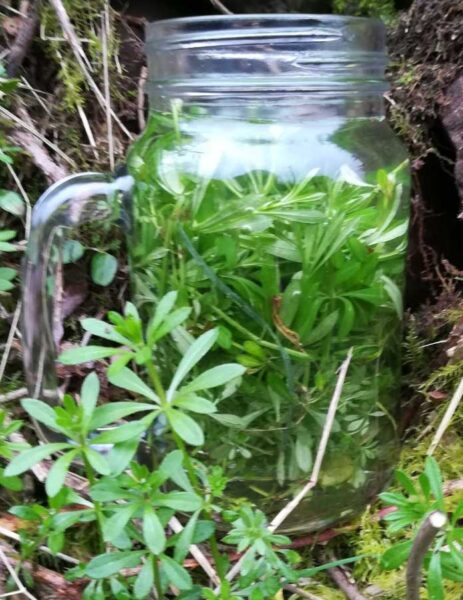 You can also use fresh cleavers to make a hot herbal infusion or an overnight infusion.
Herbally, cleavers promotes the lymphatic flow and helps rid the lymphatic system of metabolic waste. In effect, it is like a pipe cleaner for the body's lymph vessels.

Julie Bruton Seal, Hedgerow Medicine.