Immune Boosting Mushroom Broth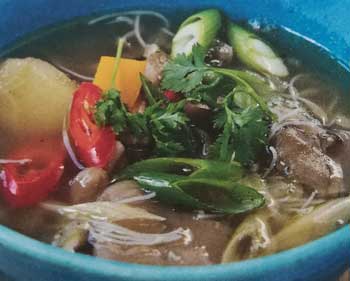 This mushroom broth uses an overnight infusion of nettle leaf for added vitamin and mineral content. If you don't have nettles you could use chickweed. Alternatively you could use 2 litres of plain water and add some chopped kale or other fresh greens or combinations of herbs like parlsey and coriander, or spinach and sage or oregano. Once cooked, you can either strain the broth and use as a base for soups or stews, enjoy as it is, or serve over whole grains. I have used the strained broth to cook quinoa in, it would also work with risotto rice for a deep umami flavour. I like this as is with a generous sprinkling of powdered cayenne. If you are using dried mushrooms soak them overnight, strain and rinse before use.
Ingredients:
Makes 4 Servings
1 litre of overnight infusion of nettle leaf, strained
1 litre of water
200g of sliced mushrooms: shitake, oyster, enoki, maitake, horse chestnut, or whatever you have.
1 length of kombu seaweed
1 length of dillisk seaweed
1 onion, chopped
3 cloves of garlic, crushed and chopped
2 carrots, chopped
3 celery sticks, chopped
1 chilli, sliced
1 thumb of freshly grated ginger
1 tsp of dried thyme

Garnish

: chopped scallions, fresh chopped coriander, wedge of lime
Directions:
Place the mushrooms, seaweed in a large pot. Cover with the overnight nettle infusion and water and stir.
Bring to the boil, cover and leave to simmer for 2 hours.
Add the onions, garlic, ginger, carrots, and celery, and simmer for 15 minutes.
Serve with fresh chopped scallions, coriander and a squeeze of lime.
Mushrooms for immunity
All mushrooms, even our common white and brown mushrooms, contain compounds that strengthen the immune system. These compounds are more plentiful in speciality mushrooms, such as turkey tail, reishi, shitake and chaga. The polysaccharides they contain act as modulators that boost immunity when it is under-active, or calm it when over-active. Mushrooms also contain Vitamin D which is essential to a healthy immune system, again by having a modulating effect.
The addition of nettles and seaweeds increases the mineral content to nourish the bones and the chilli and ginger increase circulation and uptake of nutrients.