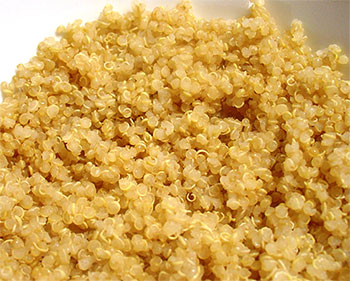 Quinoa makes for a nice change from oats for breakfast. It is a protein-rich seed that cooks like a grain (pseudo-grain), making it a nutritious option if you are gluten sensitive. It's also easy to sprout.
Always rinse or soak before cooking. A handy method is to soak overnight, as you would oats, and simply cook the next morning.
Quinoa with Apple
Ingredients:
½ cup Quinoa
1 cup unsweetened non-dairy milk (optional, can just as easily be water)
½ cup water
1 apple, diced (leave the skin on if it's organic)
¾ teaspoon ground cinnamon (adjust to taste)
Optional Toppings: blackstrap molasses or honey, coconut butter, chopped nuts, seeds, etc.
Directions:
In a sauce pan combine the quinoa, non-dairy milk, water, apple and spices, bring it to a boil, reduce heat and simmer for 20 minutes or until tender.
Remove from heat and divide into two bowls.
Add your favourite toppings.
As always, experiment, substitute pear or banana for apple, add walnuts or raisons or goji berries.
To cook quinoa:
Use 1 part washed or soaked quinoa to 2 parts water.
Bring to the boil, reduce heat and simmer until all the water is absorbed.
Remove from heat and allow to sit for a minute, fluff with a fork before serving.
If you have leftover quinoa serve with fruit or whatever your creative self desires or has handy. Quinoa is versatile and tastes equally good with savoury options such as avocado, mushrooms, tomatoes, etc. I sometimes cook it with celery seed, which adds a nice salty flavour and the beneficial diuretic and anti-inflammatory properties of celery seed.
Toasted Quinoa Bites
Enjoy as a crunchy treat or topping. Store in an airtight container.
Ingredients:
½ a cup of uncooked quinoa
¼ cup of shredded, unsweetened coconut
¼ cup of pumpkin seeds
1 tablespoon of ground flax seeds
½ teaspoon of cinnamon
Maple syrup
Directions:
Mix the quinoa, seeds and cinnamon in a bowl.
Spread on a baking tray and drizzle with maple syrup.
Toast in the oven at 180°C for 10-15 minutes or until crisp but not burned.
To learn more about quinoa and for a full nutritional profile click here.