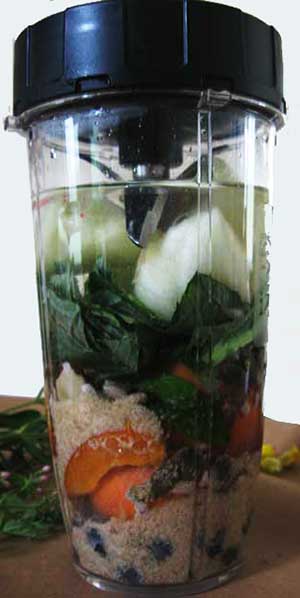 The breakfast smoothie can be a great tasting start to the day. Smoothies are simple to prepare and you can easily mask the flavours of nutritious superfoods that may not be to your liking with the addition of sweet fruits or spices such as cinnamon. Cinnamon is high in calcium, fibre, iron and manganese. Numerous studies have confirmed the health benefits, such as balancing sugar levels in the blood, lowering blood pressure and cholesterol.
Your digestive system is at its strongest in the morning, providing you have allowed it time to rest overnight. Morning is also a good for the cleansing actions of fruit.
Vary your ingredients depending on what is currently in season. Soft fruits such as apricots, peaches, pears and plums in the summer. Add berries and apples in the late summer and early autumn, and bitter greens in the spring to enliven your digestive system. Bitter oranges contrast nicely with sweet ripe bananas to stimulate digestion during the winter months.
Nuts and seeds
If I am going to use nuts and/or seeds I soak them overnight. With the exception of chia and linseeds, I strain off the soak-water before adding the nuts and seeds to the smoothie mix. They add proteins and a wealth of vitamins and minerals as well as omega 3 & 6 essential fatty acids. I most often use pumpkin, sunflower, hemp and sesame seeds, along with Brazil nuts, walnuts, hazelnuts and almonds—while I often use a mix of seeds I generally use only one type of nut in a single smoothie. Soaking activates the digestive enzymes in seeds and makes the nuts easier to digest. Alternatively, a tablespoon of dark tahini will add a satisfying creamy texture. Adding nuts, seeds, oil, tahini or an avocado will increase your uptake of fat soluble vitamins.
Raw nuts and seeds are a rich source of minerals, vitamins, healthy fats and fibre. All you need is about a tablespoonful for that satiating factor we get from healthy proteins. Substitute nut or seed butter for nut milk.
Sesame seeds provide 20% proteins that contain all the essential amino acids with higher concentrations of calcium than cows' milk. They are high in lecithin, unsaturated fats, vitamins E and B complex. Sunflower, pumpkin and sesame seeds combined produce a complete protein; they are rich in essential fatty acids and B vitamins. They have three times as much iron, twice as much protein and 25 times more thiamine and vitamin E than any prime beefsteak.
If I am using chia or linseeds I soak them with the cereal. These seeds are mucilaginous, they get all gloopy which makes them very soothing and cleansing for the intestines and colon. 1 tablespoon of chia seeds contains approximately 90 mg of calcium. They also contain magnesium and boron, trace minerals that increase the body's absorption of calcium.
Cereals
For a filling smoothie soak oat flakes overnight, they make for a very creamy base. Millet and spelt flakes also taste good this way. Adding overnight soaked grains can help to sustain your energy throughout the morning, complex carbohydrates slow down the release of sugars in the fruits and keep you feeling fuller for longer.
Fruit
At present I am using a lot of the soft fruits such as apricots, peaches, mango and berries as they are plentiful right now. Other options include a banana or pear, or use soaked Goji berries, figs, raisons or prunes etc. or frozen fruit when fresh fruit is not available, all of which will keep your bowels moving. Avocado adds a creaminess that is unmatched by anything else in my humble opinion, as well as being the best fruit source of Vitamin E.
Green leaves
Use spinach (not too much as it is laxative when broken down), cabbage (very healing for the stomach), dandelion leaves (great for the kidneys and liver), parsley (again great for the kidneys, one small handful of fresh herb will be enough), kale or any greens you have fresh and handy. Fresh mint combines lovely with melon and cucumber for a light smoothie. Lemon balm, lettuce and borage are nice options if you are feeling stressed.
Superfoods: nutritive powders
Add powders to the middle of your smoothie rather than at the bottom or top of your blender for even distribution and to prevent any clumping. Spirulina and chlorella are blue-green algae that generally contain 50 – 55% pre-digested protein plus a host of phytonutrients, vitamins, minerals and antioxidants.
Maca root is popular for its reputation in balancing hormones, increasing energy levels and regulating immune response. Other popular additions include: barley and wheat grass, rosehips, cacao nibs and camu berries.
Filtered water
I prefer using water to adding any kind of milk and really the soaked nuts, seeds and cereals make a milk and add all the creamy smoothness I like in a smoothie. Occasionally I will opt for herbal tea in place of plain water, you could also use coconut water for deep hydration and electrolyte balance.
Related: Green smoothie