Vegan Pancakes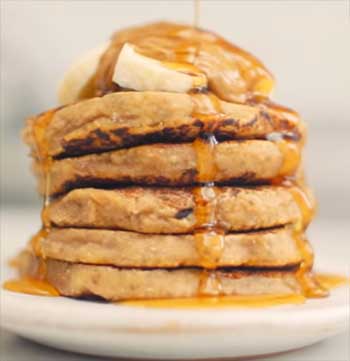 Here's an easy-pleasey vegan pancake recipe. You could make up the batter the night before if you want pancakes for breakfast. Store any unused batter for a snack or dessert, or store overnight for the next day.
To make gluten-free pancakes use chickpea and rice flour or your own gluten-free flour mix.
Ingredients:
1 cup whole wheat flour
2 tbsp demerara or coconut sugar
2 tsp baking powder
1/4 tsp salt
3/4 cup unsweetened plant milk
1 tbsp oil
1 tbsp of ground flax or chia seeds
3 tbsp of water
OPTIONAL: 1 tsp vanilla extract
Directions:
Combine a tablespoon of flax or chia seeds with 3 tablespoons of water and set aside to set. This is used in place of an egg to bind the ingredients.
Mix the remaining dry ingredients: flour, sugar, baking powder and salt, in a large bowl.
Make a well in the middle of your dry mix and add the milk, flax/chia mix, oil and vanilla extract to the bowl. Stir until combined but don't over-mix as this can make the pancakes tough.
Leave the batter to stand for 10 minutes.
Warm a lightly oiled pan. Ladle about ¼ cup of batter (per pancake) into the pan and cook on medium heat until you see the edges get brown and tiny bubbles form on the surface.
Flip and cook for about 2 minutes. Outside of pancakes should be golden brown.
Serve with maple syrup or toppings of your choice: fresh berries, banana, stewed apple, nut butter, cinnamon, etc.