Raw Cauliflower Rice
Ingredients:
1 head of cauliflower
Seasoning
Directions:
Remove the leaves and break the cauliflower into large florets.
Rinse the florets in a colander and leave to drain.
You can grate your cauliflower using a grater, larger grates work best. Alternatively if you have a food processor break the florets into smaller pieces and pulse until your cauliflower resembles bits of rice.
You can add finely chopped herbs to season or add spices such as turmeric, cayenne or ginger and stir into your cauliflower rice.
Use wherever a recipe calls for a bed of rice, if serving with curry the hot sauce will quickly warm your cauliflower rice.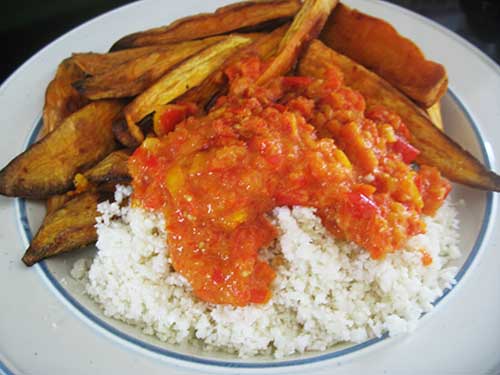 Cauliflower rice with hot sauce and sweet potato oven chips