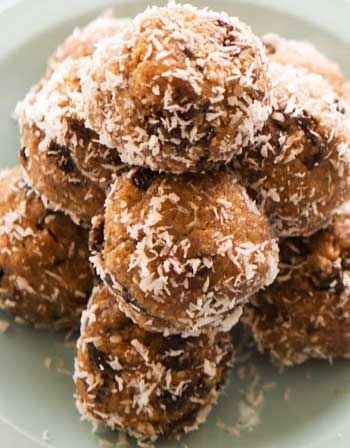 Raw Energy Balls
No cooking required. These raw energy balls are nutrient dense. Whip up a batch for a satisfying treat.
Makes about 12 balls.
Ingredients:

½ cup creamy almond butter
½ cup hemp hearts
3/4 cup unsweetened coconut flakes
10 large pitted dates
¾ cup dried currants or raisins
1 teaspoon vanilla paste
1 tablespoon cinnamon or nutmeg
Directions:
Blend together almond butter, hemp hearts, and ½ cups of coconut flakes, vanilla and spice until well combined.
Stir in the currants or raisons.
Spoon the mix into tablespoon-sized balls.
Roll the balls until firm and well-packed, then roll in shredded coconut.
And that is it, they are ready to eat

You can store them in the fridge for up to 2 weeks.