Ingredients:
2 med or 1 lg boiled/steamed sweet potato
2 cups spelt flour
1/2 tsp sea salt
1 level tsp ground cumin or cinnamon (optional)
Directions: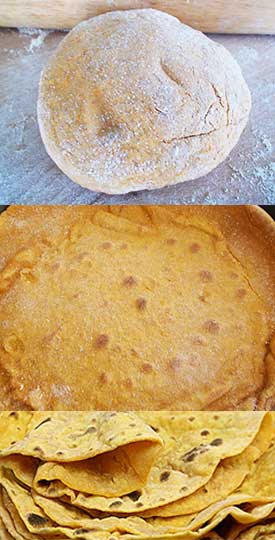 Mash the sweet potato in a large mixing bowl.
Mix spelt flour with seasoning and slowly combine with mashed sweet potato until you have a soft moist dough that is not too sticky. Add hot water or more flour as needed.
Divide the dough into a dozen or so balls.
On a lightly floured surface, roll out each ball into a thin circle. Sprinkle with more flour as needed to prevent the dough from sticking.
Heat a dry skillet or pan on medium heat. When hot, add a circle of dough, the dough will bubble. Flip and cook for another minute.
Keep cooked breads in a clean tea towel inside a plastic bag until ready to serve.
Best served hot.
You can store unused dough in the fridge until you are ready to use it.
Serve with curry dishes, beans, hummus, salads, as a veggie wrap or whatever you fancy.
Related posts: